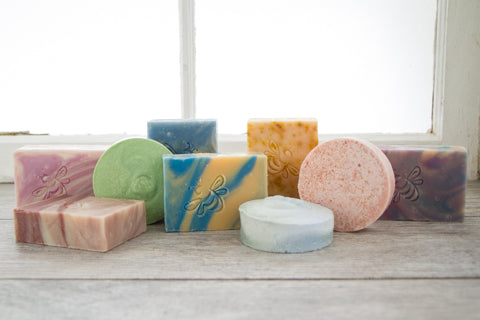 Short read: All of our soaps are palm-free. Rejoice!
Long read: A few years ago, when I became aware of the problems around palm oil, I did my research on the topic.
Palm is a common component of bar soaps because it increases the bar's hardness, makes the lather last, and helps the bar last longer. Soap and the like accounts for a tiny component of the world's palm use. The vast majority is used for cooking In Indonesia, India, the EU, China, and Malaysia.
The Roundtable for Sustainable Palm Oil has developed a set of criteria to protect rain forests and wildlife by certifying palm grown sustainably: "One of the most important RSPO criteria states no primary forests or areas which contain significant concentrations of biodiversity (e.g. endangered species) or fragile ecosystems, or areas which are fundamental to meeting basic or traditional cultural needs of local communities (high conservation value areas), can be cleared." This is a huge step in the right direction.
As with all things environmental, the arguments can get complicated. Palm is a very high-yield crop. If farmers were to switch to a different crop, they would actually need more land to get as much oil. It also provides millions of jobs for local economies. Buying palm certified by the RSPO seemed a good way of still using an ingredient that makes good soap while supporting the environment and efforts to improve sustainable farming.
The good news is that in the years that followed, more of the world's palm oil crop is now grown sustainably, about 20%. There's still a long way to go, obviously, but the trend is in the right direction.
Ultimately, though, I decided that Avital's should stop using even the organic, RSPO certified palm we had been buying.
People prefer no-palm bars and I respect that choice. People trust us and our wholesale accounts to curate the ingredients, and even sustainable palm just has too many gray areas.
After lots of testing, we found a formula that we liked even better. Instead of the traditional, fluffy bubbles, the bar gives a lower, creamier lather. We think the bar is just as nice and just as long-lasting, and the increased cocoa butter, olive oil, and rice bran oil are super conditioning for your skin.
So that's the long story! You'll see labels on the backs of our soaps, covering up the old ingredients until we use them up and get new boxes printed. Let us know what you think.