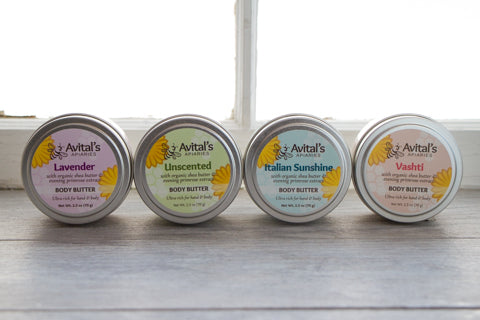 My daughter plays the violin. I've been taking mandolin lessons. If you've ever played a string instrument of any kind, you know that the temperature and humidity fluctuations are hard on them. The wood swells and shrinks. Violin pegs can suddenly spin, loosening the strings.
So you know where I'm going with this, right? When it's -4º, the violin pegs aren't the only things drying out. It's tempting to slather on the thickest, oiliest, waxiest balm you can find.
But that won't work if your skin is already dry. Your skin needs rehydration first, then something occlusive--like beeswax or cocoa butter--to hold that moisture in.
Much as I love our Body Butter (and it's on sale right now through Feb. 28), just putting it on dry elbows, hands, or knees isn't going to do much. Ideally, put it on after a bath or shower, when your skin has soaked up all that water. Or, right before bed, give your feet a soak, slather our Butter on, and wear a pair of socks to bed. It's not sexy, but it will really help those cracked feet!
I chose the ingredients with days like today in mind: -4º, dry, windy. Your skin needs moisture, softening, vitamins, healing, and protection from chapping and irritation. The five ingredients are aimed at all of that: Organic shea butter, organic cocoa butter, avocado oil, evening primrose extract, and beeswax work together. They have antioxidants, Vitamins A, D, and E, and occlusive properties to keep moisture in.
And by the way, while I wrote this, the weather warmed up to -1º. But the "feels like" is -23º, so...