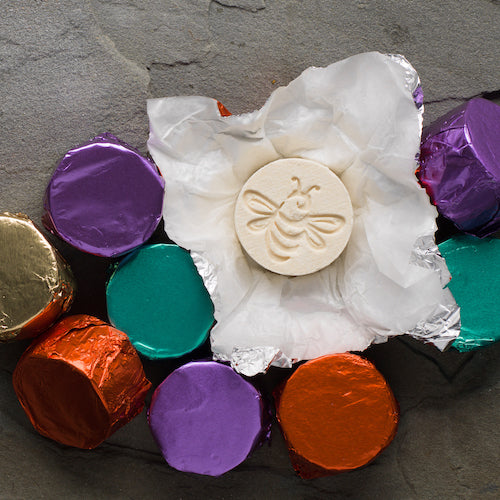 We're making some changes here at Avital's and you'll see them in your orders and on the website.
A lot of our packaging is changing. Our shampoos and conditioners are going to square white boxes, for instance. The hexagonal boxes are cute, but they had a tendency to pop open. Of course, those of you who order directly from us can always skip the outer box, if you don't need it. Save a bit from the recycling bin.
Our bath fizzies are changing, too. We're moving from our compostable cello bags to paperboard boxes. It's still a four-pack, and each fizzy is still individually wrapped, but the boxes are definitely easier for us to pack, they look better in photos (and that REALLY counts in online shopping!), and they add a little protection in the mail. Recover Bee fizzies will still be in the cello bag, however.
Finally, we are changing some names. We used to have a Honey Oatmeal fizzy scented with lemongrass and lavender essential oils. A few months back, we started adding colloidal oatmeal to ALL of our fizzies, because it's a fabulous ingredient for skin. It's moisturizing abilities are practically legendary. So now ALL of our bath fizzies are Honey Oatmeal; where they differ is scent.
So the old Honey Oatmeal is now "Soothing Lemongrass."
Italian Sunshine will be "Warming Bergamot."
Hope Springs is "Energizing Citrus Mint."
And Lavender is...well, "Relaxing Lavender."
We're trying out this idea of names that are plainer, more reflective of the scent. That's easy with Lavender, but harder with Hope Springs: That particular blend of essential oils is complex: a citrus note, a floral note, an herbal note, and a musky note all together make it difficult to sum up--but we hope we've managed to convey a scent I really love.
Eventually, the soaps and other lines will follow this new naming convention. But as always, if you're not sure, you can hit that chat button on our website and talk to me; if I'm not available, I'll respond as soon as I can. And we' have a 100% satisfaction guarantee. If anything about an item doesn't work for you, just let me know and I'll refund your money.
Questions? You know where to find me! --Lesli