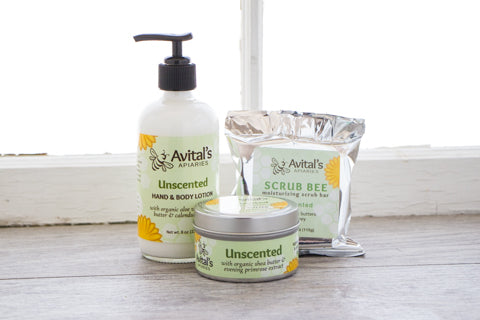 For the last few years, we've offered an unscented line: body butter, lotion, Scrub Bee, and a Lotion Bar. After taking a hard look at the numbers, it was pretty clear that sales were low. Our people are scenty people, clearly! 
We've decided to discontinue all but the Lotion Bar. In a small shop like ours, every last product has to pull its weight, and clearly, the unscented items were not fan favorites. 
We've added "Hope Springs" to the line up: it's fresh, citrusy with a touch of herbal. So far, we're making a Body Butter, Lotion Bar, Bath Fizzies, and soap--the soap was the original inspiration, and is still called Chaya's Hope, named in a contest years back. It IS a bright, hopeful scent, something that I think is perfect for spring (it's coming!) and for these sometimes difficult days.
is there one unscented product you'd like us to still make?  Let me know!