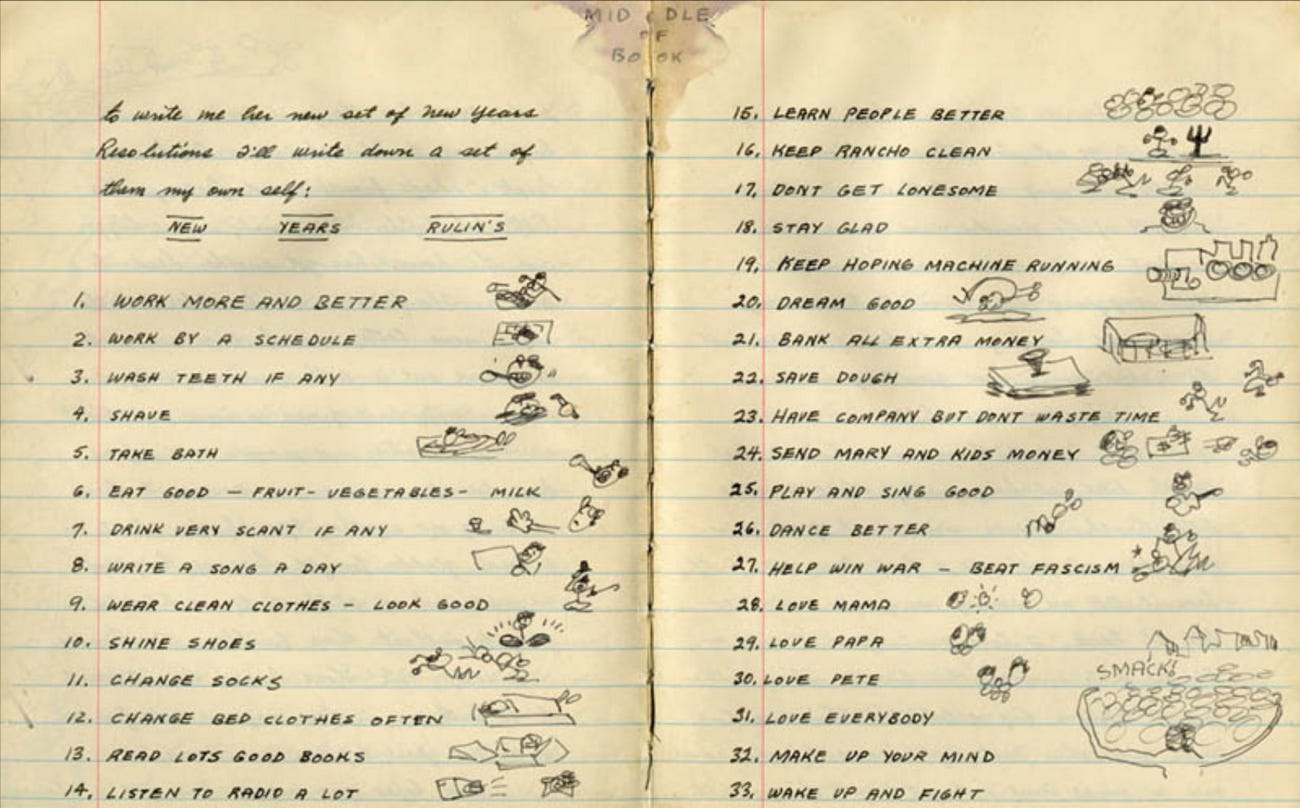 I never used to do resolutions, but I have started to take stock at the beginning of the year so I can see where I can improve things. 
Woody's "rulin's" aren't bad at all, though I'm sorry he was sending his family money instead of spending more time with them. Such is the life of an itinerant musician, I guess.
He covers self-care, money management, work ethics, caring for loved ones, and fighting fascism. I can get on board with all of that.  
I'm still working on things I've been working on for a long time: trying to plan rather than react, focus on big projects that need doing, and get into good habits around food, exercise, sleep, and mandolin practice (we all need a hobby!). I also want to make sure my family eats dinner together at least 4 times a week, that we do a weekend brunch, and have a family outing every week, even if it's just walking the dog together for a few miles. Especially as our kid gets older, it's really easy to start spinning in separate orbits and lose track of one another.
For the last few years, I've used a Passion Planner for my day-to-day schedule, tasks, and note-taking. I like the uncluttered layout and the helpful, not-mushy inspirational quotes every week. There's plenty of room for notes and doodles and lists, too. (This is not, by the way, a paid endorsement. I just like them.)
I keep my planners from year to year and look back at them occasionally, especially for holidays: I keep recipes and notes of things that went well or could use tweaks. 
The format doesn't work as well for large projects, I've found, though, so I keep looking for something that will help me track complex projects with a lot of moving parts. At the moment, I'm trying Evernote Pro, which is on the expensive side, but may be worth it? I guess we'll see!
I'd love to hear how you're setting yourself up for this coming year. Do you have ideas for what went well, what to improve? Is there a particular paper or electronic planner works for you?  let me know in the comments!
--Lesli