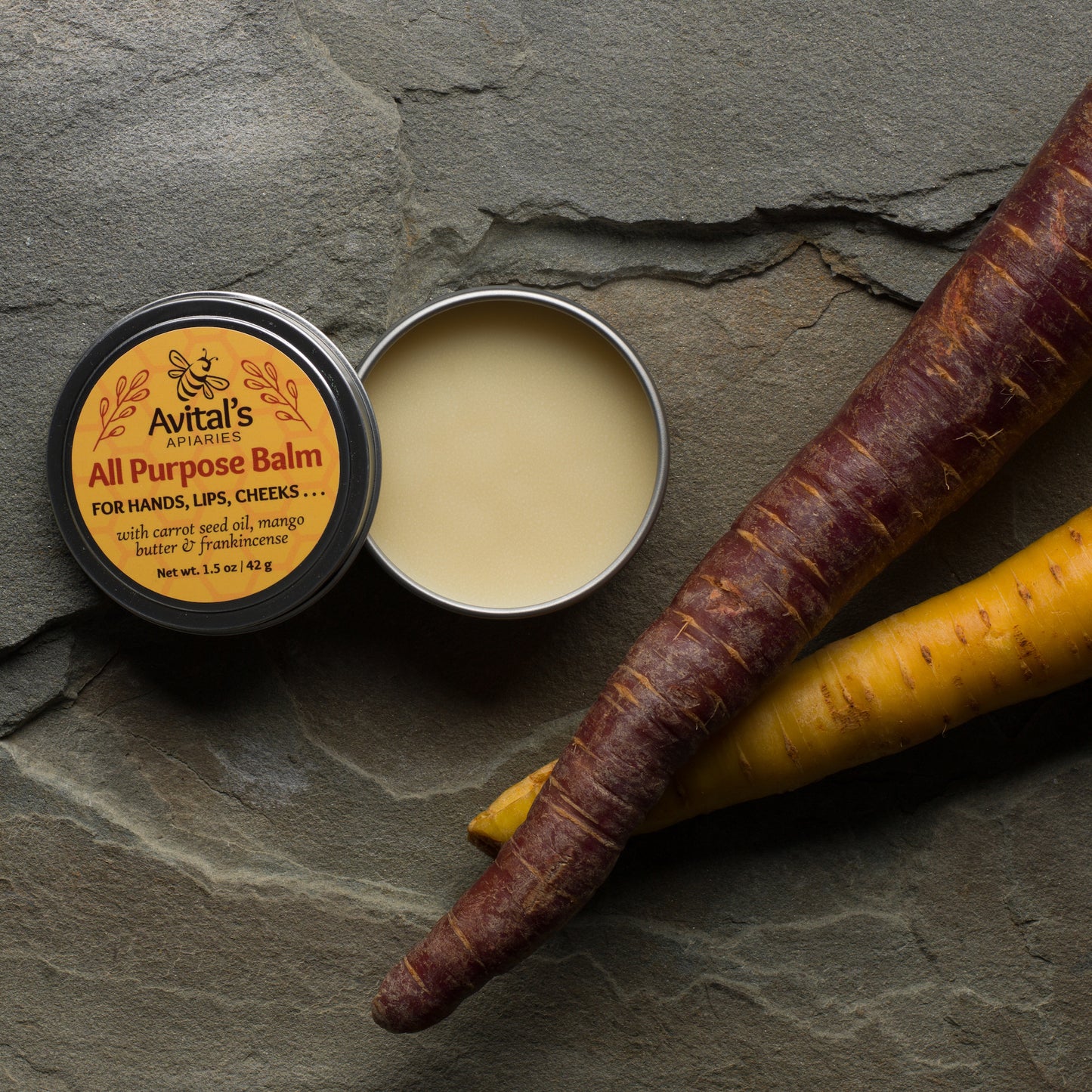 What's the difference between a lotion bar and a balm?  Let me break it down for you. If you have dry, cracked skin--think chapped lips, cracked heels or fingers--you need the heaviest, most protective formulas we offer: lotion bars or lip balms. These have the highest percentage of beeswax, which will form a protective barrier on your skin, keeping the softening butters and moisture locked in. In fact, our unscented lotion bar can be used as a lip balm and any of our lip balms can be used as a moisture stick. The Propolis Lip Balm is especially helpful to stressed skin.
Next up is our All Purpose Balm. It has far less beeswax than our lip balms or lotion bars, but it does have plenty of carrot seed oil and frankincense. The combination is earthy, a bit sweet, and definitely not everyone's cup of tea. But I chose them for their skin-loving properties rather than their scent. Everything in this formula, including the mango butter and rice bran oil, is geared toward being anti-inflammatory and antioxidant. We want maximum soothing here. 
Beekeeper's Buddy is the lightest of our balms. We use sunflower oil, which helps prevent moisture loss, shea butter, which softens your skin, and an extract of bee propolis gathered from our own hives. The combination is light and quickly absorbed and because it is unscented, you can use it on your lips.
The common theme among these is the plant-based oils and butters which offer antioxidant and anti-inflammatory properties along with softening. Chapped skin will appreciate more beeswax to seal in moisture while the lighter All Purpose and Beekeeper's Buddy formulas are great for preventing problems while not being too heavy.
We've been making Avital's Body Butter for about a decade, pretty much the same way: we whip the shea butter, add avocado oil, beeswax, cocoa butter, Vitamin E, and essential oils, and then spoon it into tins. It's a long, labor-intensive process. But so worth it. Because this is an all-oil-and-butter preparation, it is heavier than a lotion, but whipping it lightens it quite a bit and it does sink in quickly.
Avital's Body Butter is about 70% organic shea butter. We use shea butter in a lot of our formulas (lip balms, lotion bars, Beekeeper's Buddy, for instance) because it does so much. It has natural Vitamin E which softens and provides antioxidants, it contains allantoin for cell regeneration, protection, and healing, it's anti-inflammatory, and it moisturizes. What is not to love? 
We add avocado oil which is quickly absorbed and is high in Vitamins A, D, and E and is great for chapped or windburned skin. Organic cocoa butter and beeswax act as occlusives and keep all that moisture in your skin.
Our Body Butter is best used fresh out of the shower or bath, when your skin is hydrated and damp. It is super rich, so you only need a little. 
Our lightest formula is our Hand & Body Lotion. This is the (glass) bottle to keep by your sink to use every time you wash your hands. I have always found "grocery store" brand hand lotions disappointing. They didn't seem to do anything for my hands. So when I formulated this one, I wanted to pack it with things that really work for your skin: aloe juice, calendula extract, coconut oil, rice bran oil, and mango butter. As always, these ingredients bring their anti-oxidant goodness to the party, soothing skin and keeping it hydrated. Calendula extract is especially good at healing skin and is a great free radical scavenger. This lotion works! The one caveat is that if you are prone to acne, I don't recommend using it on areas where you break out. Coconut oil has a lot of great properties, but it can cause break outs. (That, by the way, is why we don't use it in our lip balm.)
When your bottle of lotion is nearly used up and you can't pump that last little bit out, open the cap and run the bottle under the tap when you take a bath. The lotion will disperse in the tub and give you a scented, moisturizing bath. (But be careful getting in and out, in case it's slippery!)
--Lesli